DMC Review from a DMC hater
I am a big fan of the Devil May Cry series so when DMC was first announced and I saw that debut trailer and I saw the new Dante, man I was furious big time. Why so much change? Why change an already amazing character!!?? Anyway fast forward to 2013. After playing the demo I was impressed, the gameplay was not tot bad, not as fast as the previous Devil May Cry games but still good, environments were good, the gameplay was decent and the weapons were finally different. I was willing to check the game out and I borrowed it, my review is below.
My review will be in 2 separate sections, what i liked and what I didn't.
What I liked
Weapons were actually different after a long time (Melee weapons) - I loved how the weapons had a good variety this time (Melee Weapons), they felt very fresh. Arbiter was a heavy hammer, we have never been given a heavy weapon since DMC2 and it was a nice addition. Osris was a scythe like weapon, never have we used a scythe like weapon in Devil May Cry and it was a nice change. One of the other weapons you get is a very cool weapon and very different compared to most weapons you get in DMC.
Autosave section is so helpful - All other Devil May Cry games, you would have to finish the entire level, you could save mid mission but you would still have to start the mission from the beginning. In DMC whenever it autosaves you can carry on from that part, regardless of what part of the mission it autosaves. I could go through a mission, when I would need to switch of the system for whatever reason I could knowing that I can continue on with my mission at a later time.
Very good story – The story was very good when compared to other Devil May Cry games with the exception of the first Devil May Cry games, that story was awesome. Devil May Cry veterans, trust me that story is good. Not a big fan of the rebooted characters though (Dante, Vergil especially Mundus!)
Fantastic Enviroments - Man the enviroments were really something, the way the floor was strat cracking, the buildings would start closing in on you, the beautiful looking levels, Limbo was a pleasure to explore.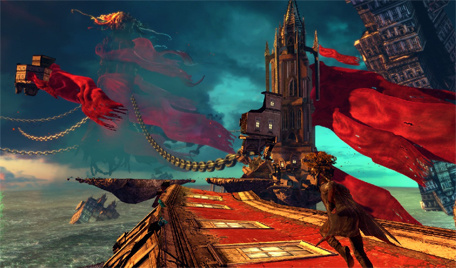 Added exploration was a nice addition - In the previous Devil May Cry games the only exploration was to find items and secret missions. This time you can explore to find items, find lost souls and free them, find items,  find secret keys and find secret doors.
More reasons to play the levels again - In previous Devil May Cry games the only real reasons to play through the games again is get higher stylish grades, complete harder modes, upgrade your items and find secret missions. This time around, you can secret keys, secret doors and lost souls on all levels. What's interesting here is certain keys open certain secret doors on each level so finding a secret door is not enough. To find some lost souls you have to have a certain weapon and must return to previous stages so you can find lost souls (reminds me of Zelda). In addition you still have the higher difficulties and getting better stylish grades for all missions.
What I disliked
New upgrading system – The way in which you upgrade items and weapons in previous Devil May Cry games were to buy them with red orbs, so you had to make sure you use the red orbs for the right reasons. This time you get white orbs, which eventually give you an "Upgrade", using the upgrade you can buy new moves and power up your firearms. In previous games the higher the level of the move you wish to buy, the higher the price makes sense to me (e.g – Stinger level 2 is more expensive than Stinger level1 ). This makes it far too easy to upgrade your weapons.
Getting a high stylish rank is far too easy - Don't really need to say anything, found getting high style ranks was far too easy and so easy to get a high ranking style grade.
Bosses Design – I wasn't very impressed with the design of the bosses, previous Devil May Cry bosses all looked very memorable and looked quite mean. The bosses here didn't look as good as a lot of the bosses in the previous games. Compare the Succubus  to someone like Berial, Nightmare, Cerberus, Mundus (DMC1), Griffon, Phantom, just don't compare.
DMC – Succubus
Devil May Cry 4 – Berial
The new Dante - The new Dante just does not compare to the old Dante, the new Dante was decent when he was serious but his jokes were awful and he wasn't cool like the old Dante. In the previous games Dante always did some cool things especially when old Dante got a new weapon, it was always epic, Alastor, Gilgamesh, Agni and Rudra, Pandora's Box anyone? man those were epic scenes and always git you pumped up to use your new weapon. His jokes were great too and he looked much better than this Dante, Is it just me or the white hair on the new Dante look….out of place, weird!
Regardless I have very much enjoyed this game and recommend all Devil May Cry fans to play this game, Ninja Theory have done a good job in a lot of parts of this game.
Do you agree with my points? Do you like my review format? Give me some comments!!